Here's a tray that I recently added to the collection for Old Dutch Lager, Malt Tonic, and Red Ribbon Beer by Mathie Brewing Company of Los Angeles, California.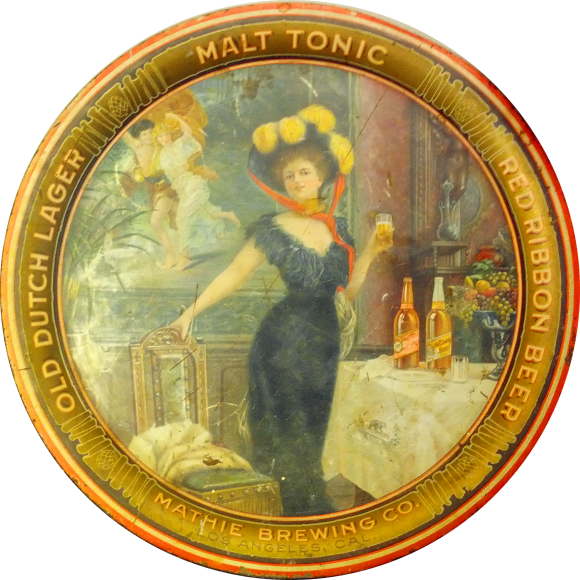 This tray has a great looking Victorian scene where our beautiful and well mannered lady drinks from one of the company's two beers. In the background in a nice painting of two mythological youths, the chair holds her fur, and the tablecloth even has the Mathie logo of the California bear. You can't tell in this picture but you can even read the text on the bottle labels because the detail is so good.  The Red Ribbon Beer ( red label on the left ) reads "Red Ribbon Beer Purity and Quality" while the Old Dutch Lager ( yellow label on right ) reads "Mathie's Old Dutch Lager For Your Health's Sake". From the style of illustration and information taken from Breweriana II, I date this as a pre-prohibition tray because to my knowledge Mathie's did not produce Red Ribbon Beer after prohibition and didn't operate under the name Mathie's except for the year 1933 after prohibition.
Unfortunately the condition on my tray isn't that great, there are quite a few scratches and discoloration, but it still displays well. For a look at one in better condition check out the page on the site for Mathie Brewing Co. tray.
Note: There was also a Mathie Brewing in Wisconsin which to my knowledge has no relationship to the Mathie Brewing in California.