Our site has the internet's most extensive galleries of rare and valuable Pre-Pro and Post-Pro Antique and Vintage Beer Trays. While our site doesn't have every tray that's out there, we do have many of the trays of interest to the high end collector and the aspiring collector with dreams bigger than their wallet. If you're searching for a specific Brewery or tray use our search bar to skip directly to the trays of interest to you. We are here to help you in your collecting endeavors so feel free to Contact Us, Join Our Mailing List, or just Browse the site!
We Buy Antique and Vintage Beer and Advertising Trays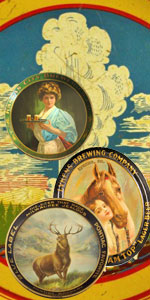 We are collectors of breweriana and we really love these trays! We will offer to buy single trays, multiple trays or entire breweriana collections depending on your desires. If you found your tray in one of our image galleries and it's in fair to good condition, it's very likely that it's valuable and we will probably make you an offer for it. We make aggressive offers for rare or high-grade trays and we buy tons of trays every year, usually beating out offers from other dealers and collectors.
If you would like an offer for your tray or Breweriana items then you can text pictures of your item to 404-606-2648 or email to Dale@AntiqueBeerTrays.com. Getting us pictures means that we can help you more quickly and more accurately.
We Offer Free Appraisals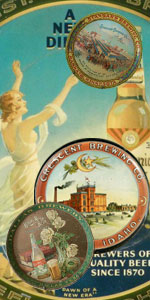 As a service to collectors, experts, and novices alike, we offer free appraisals for trays and breweriana items. Whether you've just inherited something and need to know what it's worth, you found something you're interested in and don't know what to pay, or you are just curious for information about your item, feel free to contact us with pictures and we can help you by providing an estimated value based on rarity, condition, and current market trends.
In order for us to provide any kind of accurate appraisal, we need you to send us pictures of your item. Telling us that it's just like the one pictured on the site or in mint condition isn't good enough and just causes confusion on both sides. For this reason we can't provide any pricing information until you can provide us with a picture of the actual item you have.